SUSTAINABLE SHIPBUILDING
We have a long history of sustainable shipbuilding. We certified our quality, safety and environmental systems in 2008, the first shipyard company in the world to do so. We were also first to incorporate an LNG tank on a car ferry (on the outer deck of Viking Grace) and later among the first to incorporate an LNG tank inside a car ferry (Tallink Megastar).
Each ship that sets sail out of our shipyard helps the Finnish maritime industry move forward in technological development and sustainability. We participate in both Finnish and international projects that aim to develop sustainability in the maritime and shipbuilding industries. We also work closely together with various parties in the Finnish maritime cluster as well as research and educational institutes.
The scope of our shipbuilding projects is immense. The value of the delivery of a single ship is up to one percent of all of Finland's annual export, and the impact on economy and employment is significant.
World-class ships are built with world-class expertise. We take care of our employees' expertise by providing them with regular training and coaching. We require uncompromising commitment to ethics and legal compliance from ourselves and from our partners.
Cooperation with our internal and external clients is the only path to success. We actively create opportunities for the current and future employees of Meyer Turku and our partner network to enable them to contribute to an even more sustainable future.
NECOLEAP – GREEN TRANSITION RESEARCH AND DEVELOPMENT PROJECT
Meyer Turku Oy's NEcOLEAP green transition project brings together representatives of universities and research institutes to develop technology solutions that are innovative and sustainable on a global scale. One of the primary goals of the program is to accelerate the adaptation of our shipyard' business to green transition and respond to the demands of climate change together with our ecosystem partners.
Goals of the NEcOLEAP program:
Reinforcing and expanding innovative research and development in our shipbuilding ecosystem
Utilizing smart technology throughout a ship's lifecycle
Developing a climate-neutral cruise ship concept by 2025
Climate-neutral shipyard by 2030
OUR CORPORATE RESPONSIBILITY STRATEGY
The development of corporate responsibility at Meyer Turku and the related reporting is guided by the corporate responsibility strategy approved in 2021 by the Meyer Turku management. This strategy sets the high-level goals from which we derive a practical action plan along with its implementation and follow-up.
Our strategy considers the three pillars of corporate responsibility: social, economic and environmental responsibility. However, our strategy is also an ever-evolving tool, with our focal points shifting as our corporate responsibility work progresses. Read more about how our corporate responsibility work is progressing: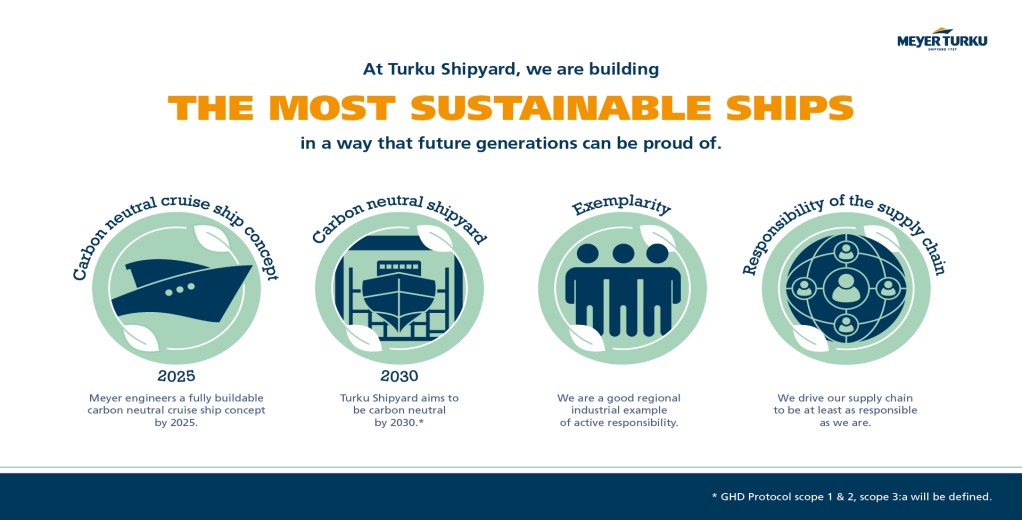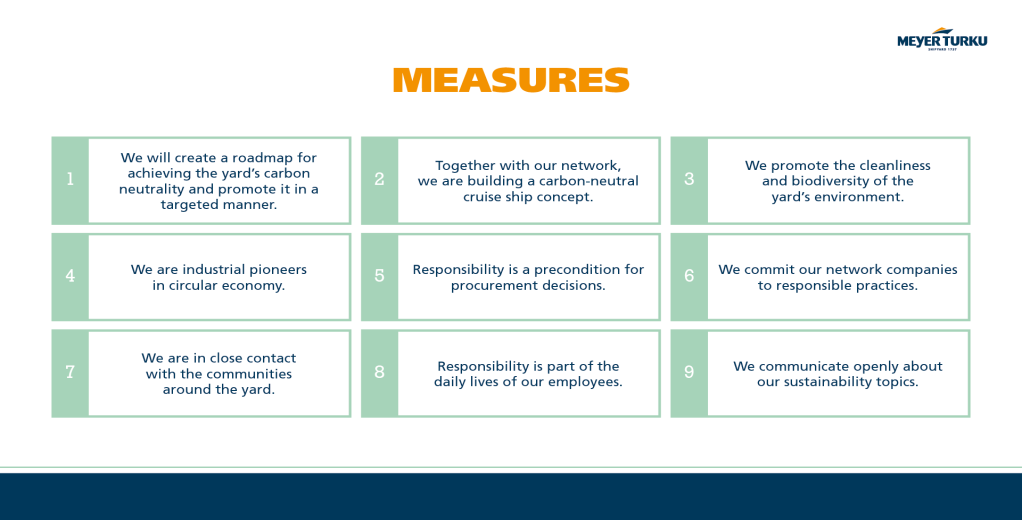 Sustainability Reports
Read more about the progress of our responsibility work: